Products
Production of precision metallic small parts happens through cold pressing from tape and thread, using iron, brass, stainless steel and aluminum.
On request, we can provide also technical drawings with dimensions of our items.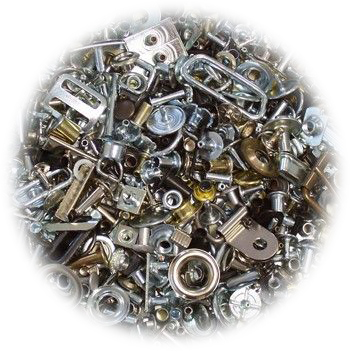 Self-piercing rivets
Self-piercing studs
Double rivets
Half-pierced rivets
Special eyelets
Flat and shaped washers
Threaded small parts
Welded and folded rings
Buckles
Pressure buttons for special application
Hooks for blocking or sliding
Other products for the assembly (and not only) of accessories and parts in plastic, metal, synthetic fabric, leather, etc… used in the technical-sport industry and in other fields
We supply moulds and equipment for specific articles of our exclusive planning or designed by the customer, as well as assembling machines and special spare parts for particular workings.
To access the product catalog registration is required.
Sign in with your password using the appropriate login box.